Wednesday: Recognition
Well Done to the Winners!
In recognition of National Customer Service Week, we are celebrating the hard work our employees contribute towards our customer service.
We have asked our employees to nominate a colleagues who have gone above and beyond.
Here are the employee winners who got nominated by their employees:
Alex Round, Dean Partridge, Pete Lewis & Esther Cottrell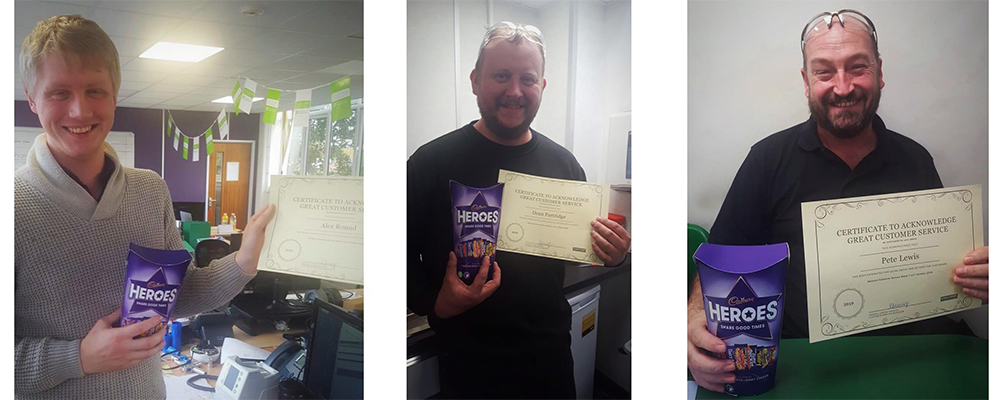 All of these employees go that extra mile for their team, the business and for customers. We see these employees as our customer heroes!
Here are the employee winners who got nominated by directors:
Rachel Goodyear: "Rachel has a really positive can-do attitude and is extremely enthusiastic about the customer.  She has a warm and friendly nature and is always on hand to help where required, greeting interviewees and making sure they have a good first impression of Evac Chair.  She is a great asset not only to the customer services team, but Evac Chair as a whole"
 Jason Harris: "He demonstrates a very proactive commitment to getting products out to customers on time to meet their delivery expectations."
Andy Fellows: "My nomination goes to a person who is meticulous in what he does (a role few would enjoy) and is happy to help out in the field when required. Few could say they check almost every chair that goes to the customer"
Wayne Harris: "My nomination is Wayne Harris, whilst I see him often staying late to ensure deliveries are collected, I have on more than a few occasions surprised him late on, with suppliers, partners, customers for tours when the place is shut. To point that he once gave up a lift home to support unlocking and de alarming the buildings for me, to then walk home ! So customers are happier they have received goods faster and scheduled tours have been completed all down to Wayne !"
 Richard Wylie: "For regular positive feedback from customers including "Richard could not have been better, more accommodating, more professional or more of a pleasure to deal with. He really is a credit to your company"