Visitor poll finds 55% of health & safety managers do not include terrorism in evacuation plans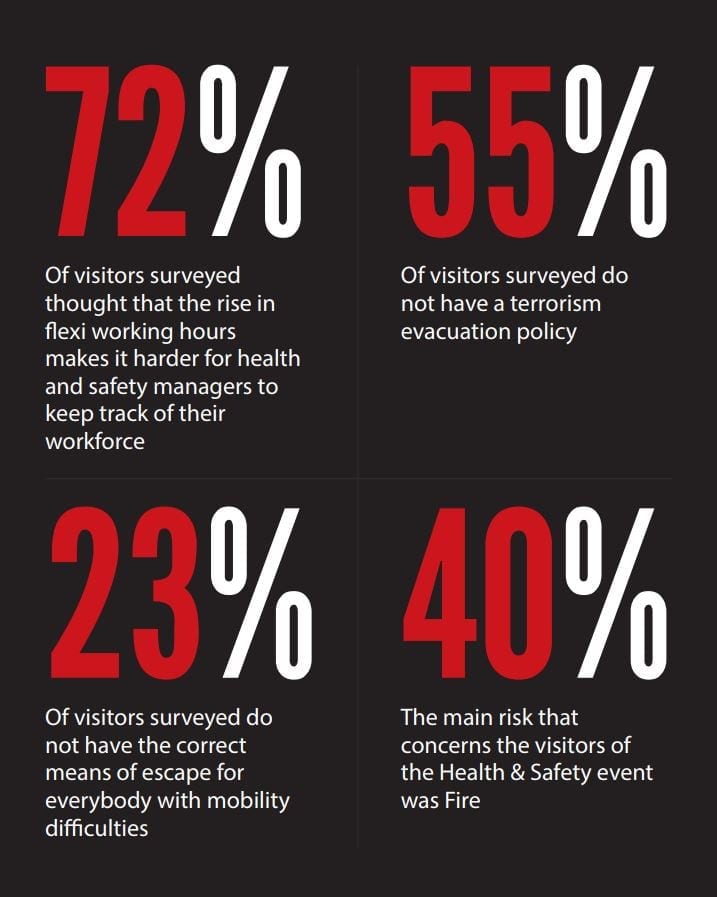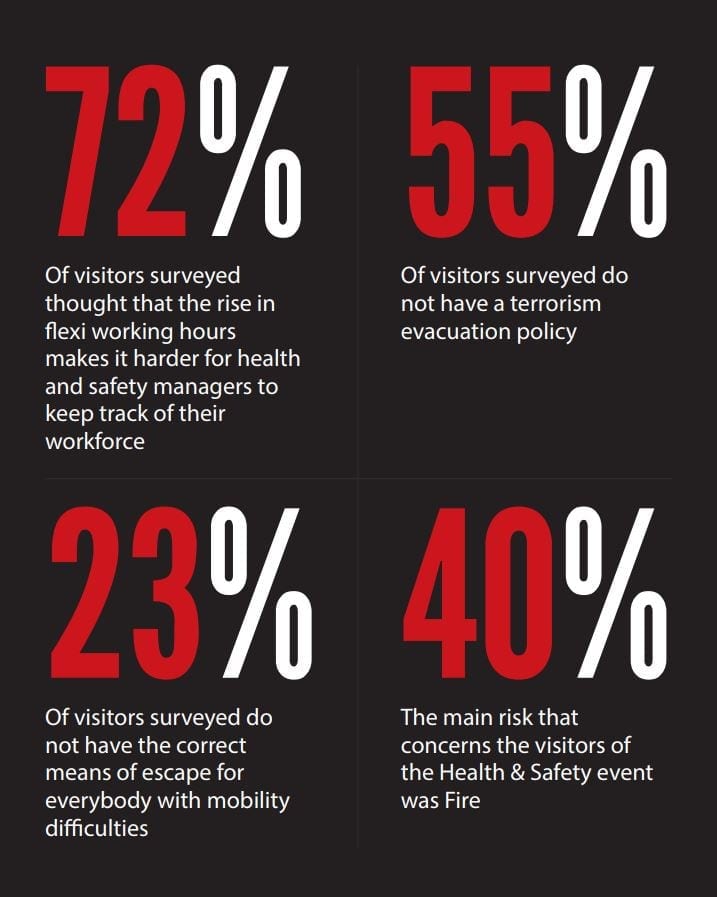 Evac+Chair International surveyed visitors at this year's Health & Safety Event at the NEC with surprising results. Of the visitors questioned, 55% do not include terrorism within their emergency evacuation plans.
Almost 25% believed that they do not have the correct means of escape for everybody with mobility difficulties and 40% stated that fire is the main workplace risk that keeps them awake at night, out of all other health and safety risks.
There were other surprising results from the survey. Interestingly, 72% of people questioned identified that the rise in flexible working hours makes it harder for health and safety managers to keep track of their workforce in an emergency.
Only 11% of people said they had identified changes to the built environment as a health and safety risk and only 10% identified changes to workforce demographics as a risk.
Evac+Chair International provides world-leading, emergency stair-descent and accent solutions. At this year's show, they wanted to investigate the new variety and scale of modern-day evacuation risks which health and safety managers now need to cater for.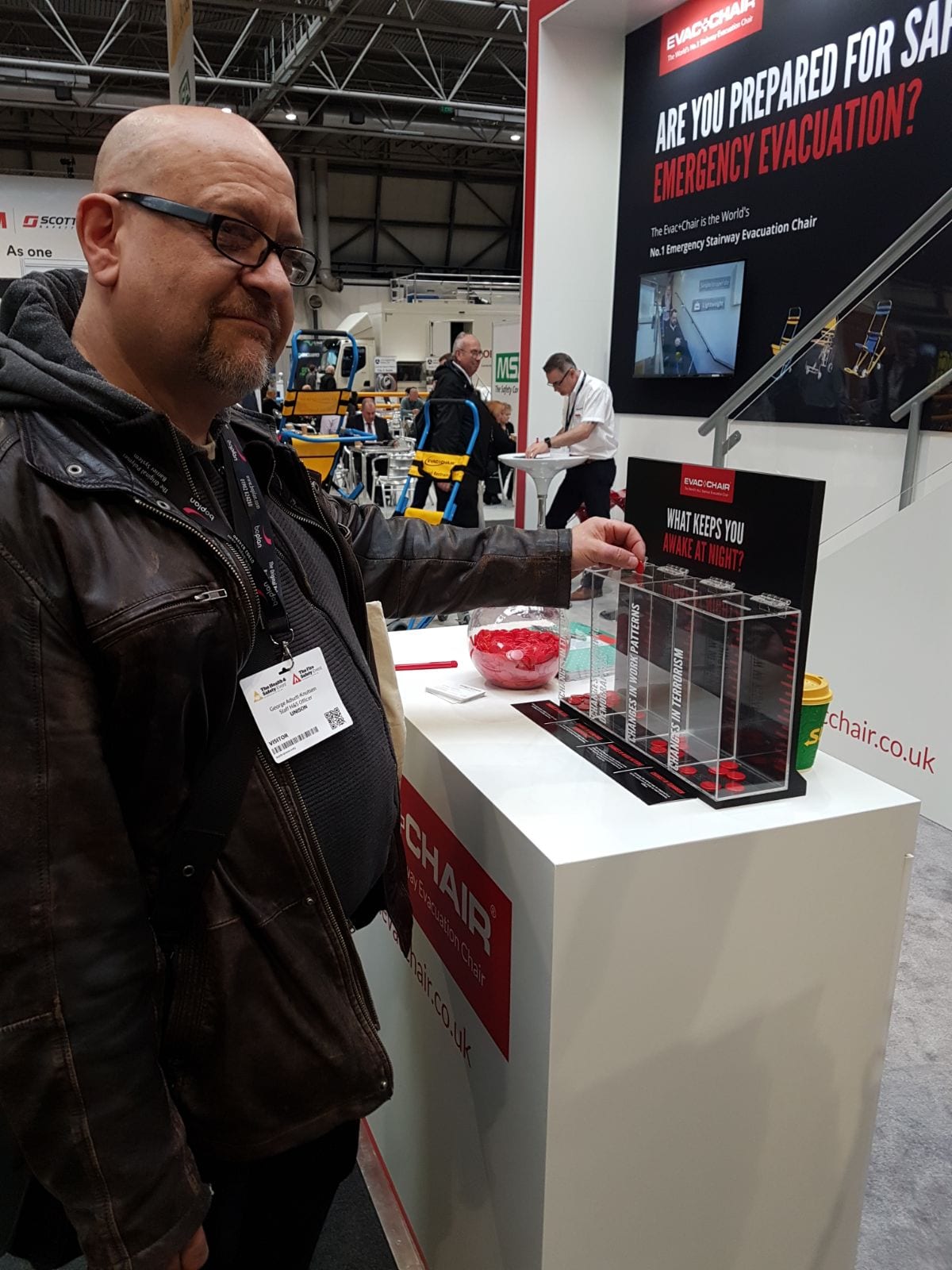 Evac+Chair launched a new campaign at the Health and Safety Event – The changing nature of risk – which aims to inform health and safety practitioners of the new, emerging evacuation risks within modern society.
Ian Thompson, Sales and Marketing Director at Evac+Chair says: "With a rapid change to workforces over the past decade, health and safety professionals now need to have greater clarity on how every member of the workforce should be made safe during emergency evacuation situations.
"These results are shocking and shows that we need to do more to educate health and safety managers on the changing nature of risk. It is important to identify and plan for changing scenarios. New risks to evacuation procedures, such as an aging workforce or terrorism, are emerging and many questions are being raised in the industry over whether these risks are being taken seriously enough.
"Accessibility is something that every organisation must address and that brings specific implications for those responsible for health and safety practices in buildings."
The new safety risks emerging within modern day work environments are creating complex evacuation procedures for health and safety professionals. Therefore, the need for correct and reliable evacuation equipment is essential.
Evac+Chair International is the world's leading supplier and original manufacturer of evacuation chairs. With a wide range of Evac+Chairs to suit any need, each model is designed to help mobility-impaired people descent and ascend in a staircase in an emergency with the helper neither needing to lift nor have great physical strength.
With over 20 years' experience, Evac+Chair is the leading specialist in emergency evacuation, ensuring customers comply fully with health and safety regulations. Ranging from providing and deploying specialist equipment to delivering specific training and essential maintenance.
For further information:
W: http://www.evac-chair.co.uk
T: +44 (0) 845 230 2253