Best new exhibitor stand at Safety in Action Sydney, Australia
Evac+Chair won the award for best new exhibitor at the Safety in Action Sydney event in Australia held on 2nd – 4th September 2014. The award was presented based on best on visual impact, product signage/literature available and product identification, the stand was accessible for visitors to clearly identify the products whilst visually making a great impact and drawing a crowd.
This year Evac+Chair made their debut appearance at the event showcasing their vast range of Evac+Chair models and accessories, allowing visitors to engage with the products and participate in live demonstrations.
With over 20 years' experience, Evac+Chair have become a leading specialist in emergency evacuation, ensuring customers comply with health and safety regulations, this can range from providing evacuation aids and accessories to advising on legalities surrounding evacuation planning and deployment to training and regular maintenance.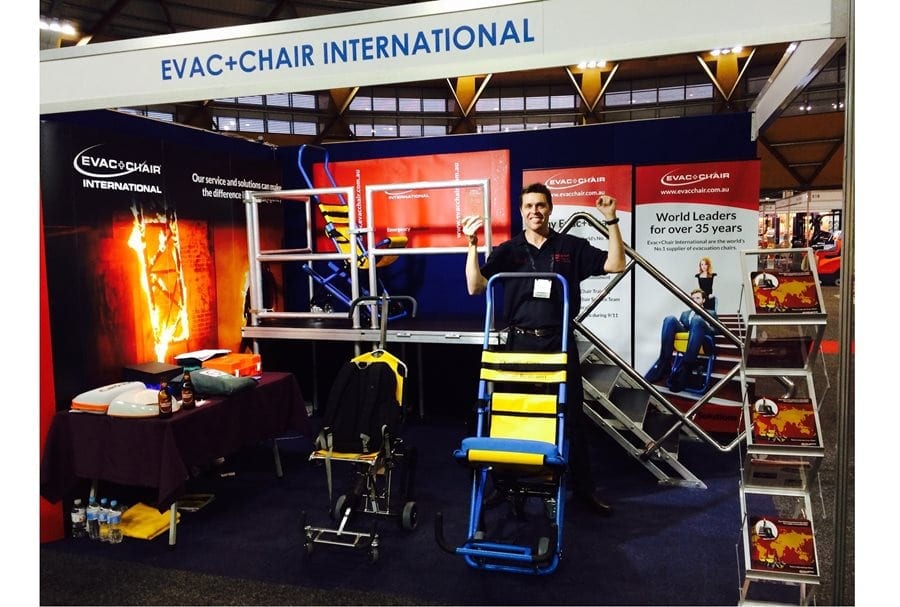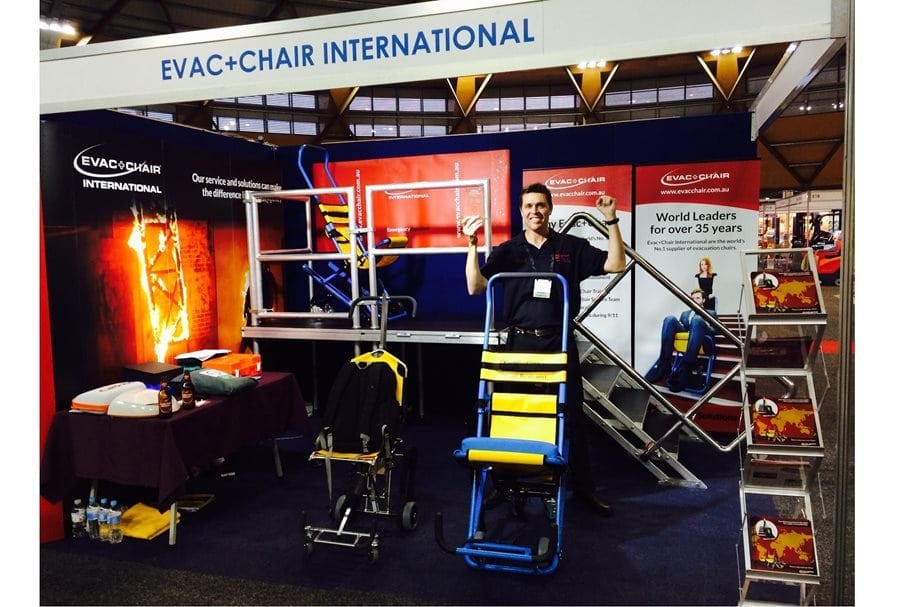 Safety in Action Sydney is the region's only dedicated workplace health and safety event in New South Wales. The event included 190 exhibitors this year and attracted over 5,000 health and safety decision makers from a variety of sectors across Australia. Safety in Action Sydney is the largest show of its kind. Presented by the Safety Institute of Australia, Safety in Action Sydney is designed to meet the needs of Australia's health and safety industry.
Director of Australasian Region said: "Safety in Action was a fantastic opportunity to demonstrate some truly unique products in the emergency management field and gauging by the level of interest, Evac+Chair has well and truly impressed those who witnessed our products. Hundreds of live demonstrations were conducted which raised significant interest, comments from those who participated included – incredibly smooth, amazing design, so clever to we want one!"
Mark Roberts, Sales and Marketing Director said: "We are always looking to increase awareness of our product range in new territories. Running our first pilot show at Safety in Action has proved extremely successful, with a vast interest in our product range and I foresee exciting times ahead for our Australasian division"